After my initial apple tree orchard met it's demise, I knew that it would be just a matter of time before I did the work involved in planning an orchard to replace it.  But this time, rather than just planting in my original orchard location and establishing another apple tree orchard, I decided to include my entire yard and work towards a goal of having a self sustaining food forest.  But first some planning to decide on apple tree varieties, stone fruit varieties, berry varieties and deciding where their forever home would be.
The Demise of the Initial Orchard
When I established the initial orchard over 20 years ago, I did some research into what apple tree varieties I wanted to plant.  Over the years a number of different perennial berries and vegetables were established as part of the initial orchard such as rhubarb, asparagus, goose berries (Ribes Uva-crispa), Saskatoon AKA Service berry (Amelanchier alnifolia) and black currant (Ribes nigrum).  But over time, as I explored in Establishing an Apple Tree Orchard and Planning an Orchard for a self sustaining future the orchard became less of a apple tree orchard and more of a grassy meadow with some plants in it.  The loan surviving crabapple tree, although it had not produced much since its cross pollinator was removed in a plow wind, continued to stand majestically as if to remind me of what could be once again.  It needed a little pruning and the rest of the orchard needed a little straightening, but it was still there.  The foundation for moving forward.

Planning an orchard
With the orchard being less than ideal, the first order of business was to plan what I wanted to grow and where I wanted to grow it.  I had already decided that I wanted to expand the orchard to encompass the whole yard but needed to answer some of the other questions as I identified in Establishing an Apple Tree Orchard and Planning an Orchard for a self sustaining future. Thinking it through, I quickly eliminated four of my consideration points.  Namely,
The next step in the process for me was deciding what I wanted to grow.  I looked around at various nurseries in my area and seen what was being offered for fruit tree varieties and eliminated some of them right away.  Although it would be cool to grow apricots and kiwi, I currently don't buy them much so why would I grow them.  The other one that I quickly eliminated was haskap. Although I like the taste, the idea of having to compete with the birds for them was something I was not prepared to do at this time.  I have enough trouble with my Saskatoon's (Amelanchier alnifolia) so adding haskap was not something for me at the moment.  Besides, like apricots and kiwis I currently don't use them, so in my mind, I would not take up real-estate on the off chance I might. I may plant apricot's, haskap and kiwi at some point, but for now they did not make the list of Other fruit tree varieties from my checklist. 
What I do know is that when I looked at what I currently use and what I preserve, apples and crabapples are used the most with cherries, plums and grapes a close second.  However, I currently only preserve apples and crabapples that are locally grown.  Cherries, pears and plums are preserved ever second year from British Columbia and grapes are preserved as they become available from local sources.  So with the self sustaining mentality and knowledge of what I currently use and preserve, I answered another question on my checklist of Other fruit tree varieties and what will I do with the fruit and added these fruit choices to my list.  But how many of each and what varieties?
Choosing which apple varieties and crabapple varieties to plant can be a large task because there are quite a few varieties out there.  And although there are not as many varieties of the other fruit trees and bushes, I could cut the list down by eliminating those fruit trees that were not hardy in Zone 3.  Although I may be able to create a microclimate to allow me to grow trees from a Zone 4, it was not worth the risk and so any fruit trees that were not hardy in my Hardiness zone were eliminated from the list.
As I explored in my checklist in the recent blog Establishing an Apple Tree Orchard and Planning an Orchard for a self sustaining future, bloom time is one of the more important things to consider.  Because I can get frost late into May, and even early June, I did not want to have apple varieties that bloomed early or even early-mid. Nothing earlier than a mid-spring bloom time would be considered.  Additionally, I did need to ensure was that regardless of what bloom time I chose, I had  to ensure that I had at least one other with the same or similar bloom time. With the other fruit trees and bushes I was planning on, bloom time did not factor in as much simply because choices are somewhat limited in variety and the fact that for the most part, most of them all bloom at the same time.
Tree height did not factor in too terribly much because of all the varieties I had eliminated thus far due to my other criteria.  And to be honest, I figure that if the tree height became an issue, I could always prune them down to a more manageable height and/or use a ladder to pick. 
With all the information in hand, the list of possible fruit tree varieties was still rather lengthy and so to reduce my list further to fit into the real-estate in my orchard and yard, I used the descriptions on storage ability, flavor and drought tolerance listed on various sources about each short listed variety of apple, cherry, pear, plum and grape. After hours of planning, my list was ready to order.
I searched on line for the various nurseries in my area and after looking at prices, age of trees being sold and fruit tree varieties being sold, that I would place my order with Boughen Nurseries Ltd..  It was going to be expensive but the beginning of April 2021 I placed the order for pick up later that spring.  In the meantime, planning on where to plant them needed to happen.
The orchard design
Although I had sat down prior to placing the order with Boughen Nurseries Ltd. and figured out how many of each apple, crabapple, cherry, pear, plum and grape I needed for cross pollination purposes and to fill in the yard and orchard plan as I had envisioned it, I needed to get something on paper for the plant placement specifics.  So putting pen to paper, I drew out a rough sketch of the yard plan and started the orchard design by adding the foundation plants from from my initial orchard.  I was then able to start planting an orchard on paper, keeping in mind that because the apple varieties were on standard root stock, design layout of the orchard would need to consider:
Crown width - As identified in the article Fruit Tree Spacing: How Far Apart Do You Plant Fruit Trees  In The Garden distance between varieties varies.  However, crown width is approximately the same as the average tree height. Being that most of my varieties had a crown width of about 12' (3.6 m), I decided on a tree spacing of 12 - 15 feet (3.6 - 4.6 m).  Consideration would need to be given in the orchard design for those apple varieties that spread wider.
Sun requirements for foundation plants from initial orchard.
Distance from varieties for cross pollination purposes.  Research would indicate that "trees that require pollination are within 100 feet of each other." as indicated in the article How far apart should I space fruit trees? .  As this was consistent with the recommendation made to me by Boughen Nurseries Ltd., that two varieties not be planted more than 50 feet apart, I decided to keep plums and cherries within the same proximity of each other in a different part of the yard.
With these design caveats in mind, I put pen to paper and slotted in the following varieties and designed an orchard map for my yard:
Apple Varieties (one of each variety):
Crabapple varieties (one of each variety):
Pear varieties (one of each variety):
Cherry Varieties (two of each variety):
Plum Varieties (one of each variety):
Grape Varieties (one of each variety):
Raspberry varieties (5 of each variety):
By designing the orchard on paper, not only did this process allow me to move things around if needed, it would give me a permanent record of what variety was being planted in each location.  The orchard map is definitely not to scale, but the information it contains is priceless.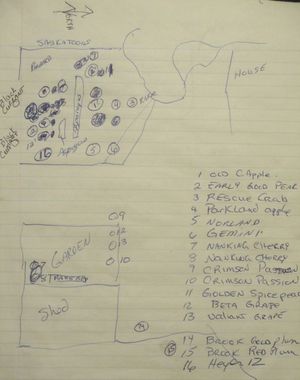 With the Orchard map ready to go, on May 23, 2021, I went to Boughen Nurseries Ltd to pick up my apple varieties and berry bushes.  My apple tree orchard and fruit tree orchard was about to become a reality.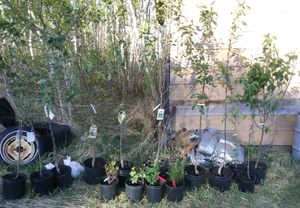 Planting an Orchard
But unfortunately, all the fruit trees would live in their containers until I finished the raised beds I was building as I described in How to container garden.  I had picked up Everbearing and Juneberry strawberry plants from a local nursery and were waiting for me to complete the raised beds for them to live in as part of the orchard plan.  Once I was completed this project and the 2021 garden was planted, I could then get started on planting an orchard.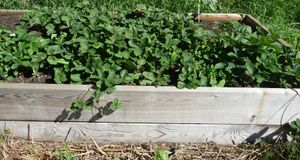 Because the Kerr crabapple was the only one surviving from the original orchard, the first order of business was to remove the last dead apple tree and then to take out the black currants (Ribes nigrum) which had naturalized their site and were choking out the goose berries (Ribes uva-crispa) growing in close proximity.  I did not want to get rid of them in their entirety and so I transplanted a number of the off shoots into other locations identified on the orchard map and I disposed of the main plants.  I was now ready to get started planting an orchard 
But I struggled with how deep to plant the root ball.  I had been told years ago that you should always bury the grafting union about 1" below the surface of the soil to prevent suckering of the root stock.  However, as identified in the article Will an apple tree grow differently if I plant the graft union high above the soil or close to the ground? "planting depth is critical, especially for trees on dwarf or semi-dwarf rootstocks." and further goes on to say that "Interstem apple trees should be planted with the interstem piece at least partially buried.".  Because I had future plans of developing the apple tree orchard, fruit orchard and the yard orchard into a food forest using Back to Eden gardening methods, I decided to plant the trees at approximately the same depth they were planted in the pot because the wood chip mulch would partially bury the grafting union a little more.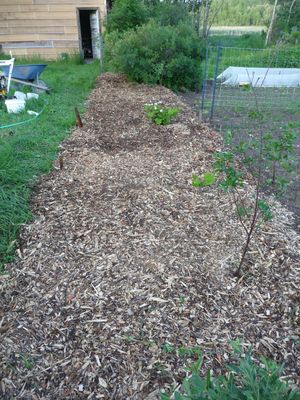 For more information on my exploration with the Back to Eden gardening method, check out the blog Achieving a Permaculture Design Principle with the Back to Eden Gardening method.
With Orchard map and shovel in hand, I methodically dug a planting hole approximately twice the size of the root ball for each tree and berry bush.  Because the trees and berry bushes had spent weeks in their pots, some of the roots had started to wind inside the pot and so I teased them out so that they would lay more flat inside the potting hole. After back filling the hole, I watered each tree and berry bush in well and moved to the next tree to be planted.  Slowly but surely I completed planting an orchard according to my orchard map. 
The last step in the planting an orchard process was to stake the newly planted apple trees and pear trees.  As the article Staking and guying trees from the University of Minnesota identifies, newly planted trees may require staking when "They have unusually small root systems that can't physically support the larger, above-ground growth (stem and leaves)." or "The stem bends excessively when not supported."  Because I was concerned about the apple trees and fruit trees I decided that staking them would be a good idea and added one or two stakes to each apple tree, crabapple tree and pear tree depending on the movement of the tree itself. The other trees I figured would be fine so no staking was done to them.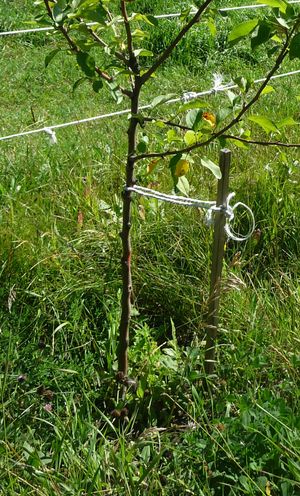 The trees were watered deeply once a week with a minimum of 5 - 10 gallons of water through the summer and by fall of 2021, they were actually looking like they might survive.  But winter would be the determining factor.  If they made it through the winter with all the snow and cold temperatures, they should be fine.  In the meantime, I could take the time during the winter of 2021 and plan out the next steps for developing the food forest, including adding a medicinal garden.  As I explored in Home Remedies using Natural Medicines - a glimpse into my Apothecary and use of herbal remedies, herbs are becoming very important to me and so a dedicated medicinal garden was something I wanted within the apple tree orchard, fruit tree orchard and yard orchard.  It's establishment will only help to move me closer to a goal of a self sustaining food forest.  But meanwhile, I wait for spring to arrive.
If you enjoy this content, please consider joining the My Boreal Homestead Life community.  By supplying your email address at the bottom of the page and hitting "sign up" or by clicking Join, you will ensure you get an email notification when I post new blogs to the My Boreal Homestead Life site. 
Thank you for joining me on the front porch of My Boreal Homestead Life as we explore this Homegrown, Homestead life, In a modern world.
Additional Resources